Budget allocation for Water Resources Ministry increased by 168 percent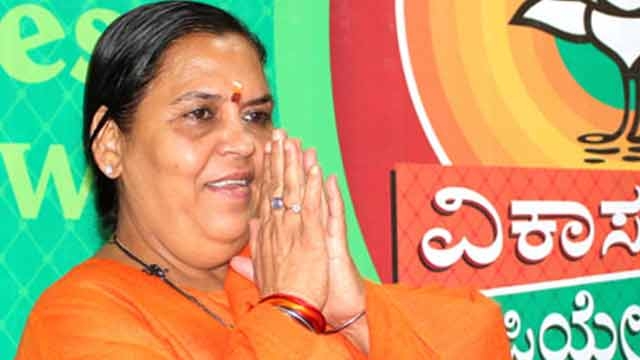 Overall allocation of resources for the Ministry of Water Resources has increased from Rs 7,431 crore in 2015-16 to Rs 12,517 crore in the Union Budget for 2016-17 through budgetary support and market borrowings. This shows an increase of more than 168%.
This was stated by Union Minister for Water Resources, River Development and Ganga Rejuvenation Sushri Uma Bharti while addressing a press conference in New Delhi today. The Minister said Allocation for Ground Water Scheme has been enhanced by 85% and another major program for sustainable Ground Water Resources for Rs 6,000 crore has been approved.

Referring to the Accelerated Irrigation Benefits Programme (AIBP) the Minister said a total of 297 projects have so far been taken up under the programme and out of which 143 projects have since been completed. Out of the 149 projects that are on-going, 89 projects have been found to be active and 46 of them have been placed under high priority category. These projects are likely to get completed by the end of 2020 in different stages. Further, out of these 46 projects, 23 projects have been further shortlisted and are targeted for completion by March 2017. These projects are being taken up in mission mode so that the projects get completed by the target time and the complete benefits from the projects accrue to the farmers. An innovative funding mechanism has been devised for arranging funds for these projects. The funds are to be arranged from market borrowing with a repayment schedule spread over 10-20 years from the annual budget of Centre and States. To complete the priority projects the Centre and States will work together in mission mode. A committee with Irrigation Ministers of Telangana, Chhattisgarh, and Maharashtra alongwith Principal Secretaries of some other States has been constituted to bring more synergy in to this exercise. The Minister said another emphasis has been to bridge the gap between the already created potential and utilised. The existing gap between Potential created and potential utilized ranges from 24 Mha to 47 Mha. She said, This gap has to be bridged in a mission mode. Joint efforts for improvement of system deficiencies and command area development for optimization of resources have been initiated".

Sushri Bharti said ground water is another important thrust area of her Ministry. She said over-extraction of ground water resources, non-sustainable irrigation and quality deterioration are threatening the reliability of groundwater supplies in India. Sushri Bharti said India is the largest user of groundwater in the world. An estimated 230 cubic kilometers of groundwater per year is extracted- over a quarter of the global total. More than 60% of irrigated agriculture and 85 % of drinking water supplies are dependent on groundwater. The Minister said National Groundwater Management Improvement Project (NGWMIP) is proposed to support sustainable groundwater resource management and creation of an environment for reforms. The project will be completed in six year with financial outlay of Rs. 6000 crore out of which Rs. 3000 cores shall come as IBRD loan. The Project will have four major components viz. Decision support tools for groundwater management, Area-specific framework for sustainable groundwater management, Enhancement of groundwater recharge and improvement in water use efficiency and strengthening institutions to foster community based management. The Project will be implemented in identified water-stressed areas in five States (Haryana, Rajasthan, Gujarat, Maharashtra and Karnataka).

Underlining the importance of aquifer mapping the Union Water Resources Minister said Central Ground Water Board (CGWB) has embarked into Largest Aquifer mapping endeavour in the world, targeting total map able area of country ~ 23.25 lakh sq. km and vertical extent of 300 m in alluvial area and 200 m in hard rock area.The extent of aquifer, their potential, resource availability, chemical quality, its sustainable management options will be addressed. She said the programme will facilitate participatory management of ground water to provide long term sustenance for the benefit of farmers. The Minister said currently focus is on ground water stress areas of eight states comprising 5.25 lakh sq.km viz. Haryana, Punjab, Rajasthan, Gujarat, Andhra Pradesh, Telangana, Karnataka, Tamil Nadu and Bundelkhand region. She said aquifer mapping of 1.16 lakh sq.km area is completed and the remaining will be completed by March 2017. Sushri Bharti said aquifer mapping of entire country will be completed by 2022.

Referring to the Arsenic mitigation plan of the Government. The Minister said Arsenic contamination has been detected in isolated pockets of 331 blocks, covering 87 districts in Ten States. She said CGWB has already constructed 274 wells in the affected areas during past years which were handed over to the state Governments, free of cost for safe water supply. This has benefited 30 lakh population. The Minister informed that this year CGWB has initiated a focused Arsenic mitigation work in the selected areas of U.P, Bihar, Jharkhand and West Bengal through construction of specially designed wells for potable water benefitting eight lakh population.

62 wells are being constructed in Arsenic affected Bairia block of Balia district and Karanda block of Ghazipur District of U.P, tapping deep aquifers. Similarly, 147 wells will be constructed in Brahmapur block of Buxar district (Bihar), Sahebganj, Rajmahal and Udhwa block of Sahebganj district (Jharkhand) and in Pandua block of Hugli district, (West Bengal).

Referring to the importance of the palaeochannels which serve as a good repository of ground water as well as suitable areas for artificial recharge and ground water storage, the Minister said in the year 2015, CGWB initiated site specific studies on palaeochannels in parts of Haryana, Rajasthan, Gujarat and Uttar Pradesh States under the ongoing National Project on Aquifer Management (NAQUIM) in association with BARC and NEERI. The studies has proved the existence of palaeochannels in the Western and Northwestern parts of India. The Minister said the extent of palaeochannels, availability of fresh ground water resource in these palaeochannels and their potential to hold recharged water have been estimated. Sushri Bharti said a national Level Expert Committee is being constituted involving the eminent researchers to review the available information on Palaeochannel / River Saraswati under the Chairmanship of Prof Waldia, a Padma Bhushan awardee.
Source: Business Standard