Ganga Rejuvenation Cannot Be Modelled on Foreign Rivers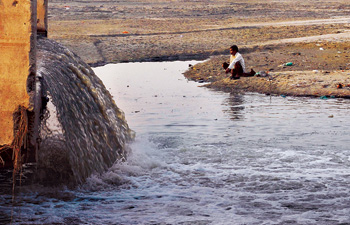 Despite getting several international offers, rejuvenation of Ganga cannot be modelled on foreign rivers as the river has cultural and religious significance, Water Minister Uma Bharti said

She pointed out that crores of people take a dip in the river while there were several persons who ran small businesses along its banks and said these people have a major role in the Clean Ganga Mission.

"We have offers from international agencies who are ready to support in cleaning of Ganga. They are ready to help us with funds, technological measures and other expertise. But Ganga has a unique character. It is not like like any other river like Thames in London," Ms Bharti said releasing a booklet on the achievements of her ministry in the last one year.
She informed that her ministry is in talks with several countries like Germany, China, Nepal, Bangladesh for cooperation to clean Ganga with Australia even promising to extend all technological support.

"People take a dip in Ganga for its cultural and religious significance. Every year around 20 to 30 crore people from all over the world take a dip in Ganga. So, we have to be careful in taking measures for its rejuvenation.

"There are lakhs of people in states like UP, Bihar and Uttarakhand who run small business during festival seasons. These people have major role to play in cleaning Ganga mission. It should come through public awareness and participation," she said.

The Water Resources, River Development and Ganga Rejuvenation Minister called for close coordination between urban local bodies to achieve the goal.

National Mission for Clean Ganga (NMCG), an autonomous body under the Water Ministry has launched 'Nirmal Ganga Sahbhagita' for initiating a sustainable partnership with 118 urban local bodies located along the river for a clean Ganga.

In a notice to 78 urban local bodies of Uttrakhand, UP, Bihar and Jharkhand last week, the ministry had directed to furnish action plans to set up sewage treatment plants to it within 15 days, as 75 per cent of the pollution in the river is caused by untreated sewerage waste.

Highlighting the achievements of her ministry, Ms Bharti said that inter-linking of river for better management of water resources is being taken up as top priority.

The Interlinking of Rivers Programme has been given special attention by the ministry in past one year and it also set up a special committee as per directions of Supreme Court in September last year.

The three major projects of water sharing between states under inter-linking programme include Ken-Betwa link project in Uttar Pradesh and Madhya Pradesh and Damanganga-Pinjal and Par-Tapi-Narmada link projects in Maharashtra and Gujarat.

However, the Minister said there has not been much clarity on river development.

"We will have to work for few more years on river development as there is not much clarity on it," she said.
Source: NDTV