Ganges River Dolphin – Conservation Education Programme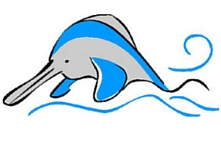 Project "Educating Schools and Community for sustainable actions for conserving habitat of Ganges River Dolphin along Ganga River Basin "
Ganges River Dolphin is an indicator species of health of the river ecosystem. Being the only mammalian predator of the Ganges which is exclusively aquatic, it occupies the apex of the food chain and plays a vital role in maintaining the essential balance of its ecosystem. In spite of being a flagship species, representing an ecosystem in need of conservation, its status has become a matter of serious concern to its existence over the past few decades. The total estimated population of Ganges river dolphin ranges between 2500 and 3000 individuals throughout its distribution range (in the river systems of India, Nepal and Bangladesh), out of which more than 80% are found in India.
Ganges river dolphin has been included in Schedule I of the Indian Wildlife Protection Act 1972 and in Appendix I of the CITES (Convention on International Trade in Endangered Species). It is included in Appendix II of the Convention on Migratory Species (CMS) and categorized as Endangered in the IUCN Red List of threatened animals. Looking at the urgency and also to focus on the conservation of this magnificent species, Ministry of Environment and Forests has declared the Ganges river dolphin as National Aquatic Animal on 5 October 2009.

Dolphin experts and scientists have prepared a conservation action plan for the period of 2010-2020 where one of the action points is focused on education and awareness about the dolphins. Centre for Environment Education, northern regional cell (CEE North) with the support from National Mission for Clean Ganga as part of the National Ganga River Basin Authority, Government of India has approved a three year Ganges river dolphin – conservation education programme for Ganga basin focusing on UP and Bihar.
The phase II aims at reaching out to schools, river side community and youth. The project would be implemented along the river Ganga and its tributaries flowing through Uttar Pradesh and Bihar.
School Component
Formation of 20 School clusters involving 30-35 schools (over 750 schools) with the support from local partner NGOs.
Orientation of partner agencies for facilitating activities at the project location.
Teachers training and review meetings for school teachers
School level activities of students as 'Dolphin clubs' or ' Sons Samooh'
Cluster level awareness events to reach out to community
Formation of Ganges River Dolphin Resource Centre in one of the cluster school
School and community interface melas for sharing of experiences
Spreading awareness about species in non-dolphin locations
Community Component
Identification of two sites each in Uttar Pradesh and Bihar for community interventions
Selection of 10 Gram panchayat villages and assessment of the conservation issues and socio-economic status of communities.
Sensitization of farmers and fishing communities about the importance of conserving Ganges river dolphin and rivers for their life and livelihood.
Skill based trainings and exposure visits to help community to build capacities and for making informed decisions.
Demonstration of sustainable and alternate livelihood options to reduce pressure from river resources.