Gangetic dolphin gets new conservation programme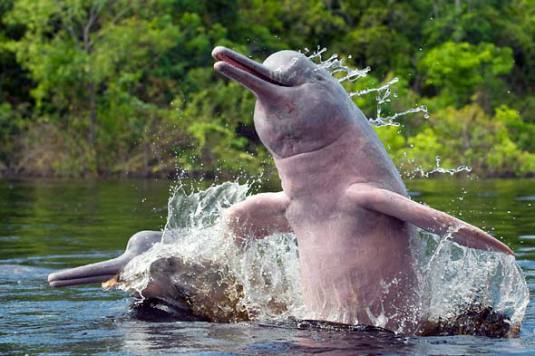 Wildlife Institute of India (WII) based here has begun a conservation program for the Gangetic Dolphin which is being funded with Rs 23 crore by the Centre. International Union for Conservation of Nature (IUCN) had listed the species as endangered in 1996 and its population continues to be on the decline. WII would conduct a status survey and long term monitoring of the species, develop protocol and procedure and, restore critical habitat of the dolphins in the country.
Qamar Qureshi, WII scientist said, "Gangetic dolphin is India's national aquatic animal which is restricted mainly to Ganges- Brahmputra in India. Anthropogenic disturbances are main causes of population decline. Water development projects, especially dams and barrages, pollution, deliberate killing for oil, accidental killings through fishing nets are the major man-made causes of the population decline. "

He said, Ganges river dolphin is an indicatory of river quality. Therefore this program aims to develop recovery plan for their population and habitats in India. It also aims to develop Ganga and Brahmaputra river monitoring system with river dolphin as flagship species. The program will also engage people dependent on river specifically fisher folk. The status survey and long term monitoring of Gangetic dolphin, associated river fauna and their habitat in India using advanced techniques. The awareness campaign about conservation would be spread through local artists. Besides restoring critical habitats, rescue centers for the species will also be developed.

"IIT Chennai and Delhi and an institute of Australia are developing the technology which can provide the sound of dolphins and other aquatic animals through sensors. With this, we will be able to track dolphins easily into the river," said Qureshi.

Ravinder Kumar Sinha, head of zoology department of Patna University who has been conferred Padma Shree for his relentless work on Dolphin for more than three decades said, "The biggest threat to the survival of Gangetic dolphin in India is the reducing level of water in the rivers. The Centre government must pay attention to it first of all."
Source: Times of India