Geospatial Technology Support for National Mission for Clean Ganga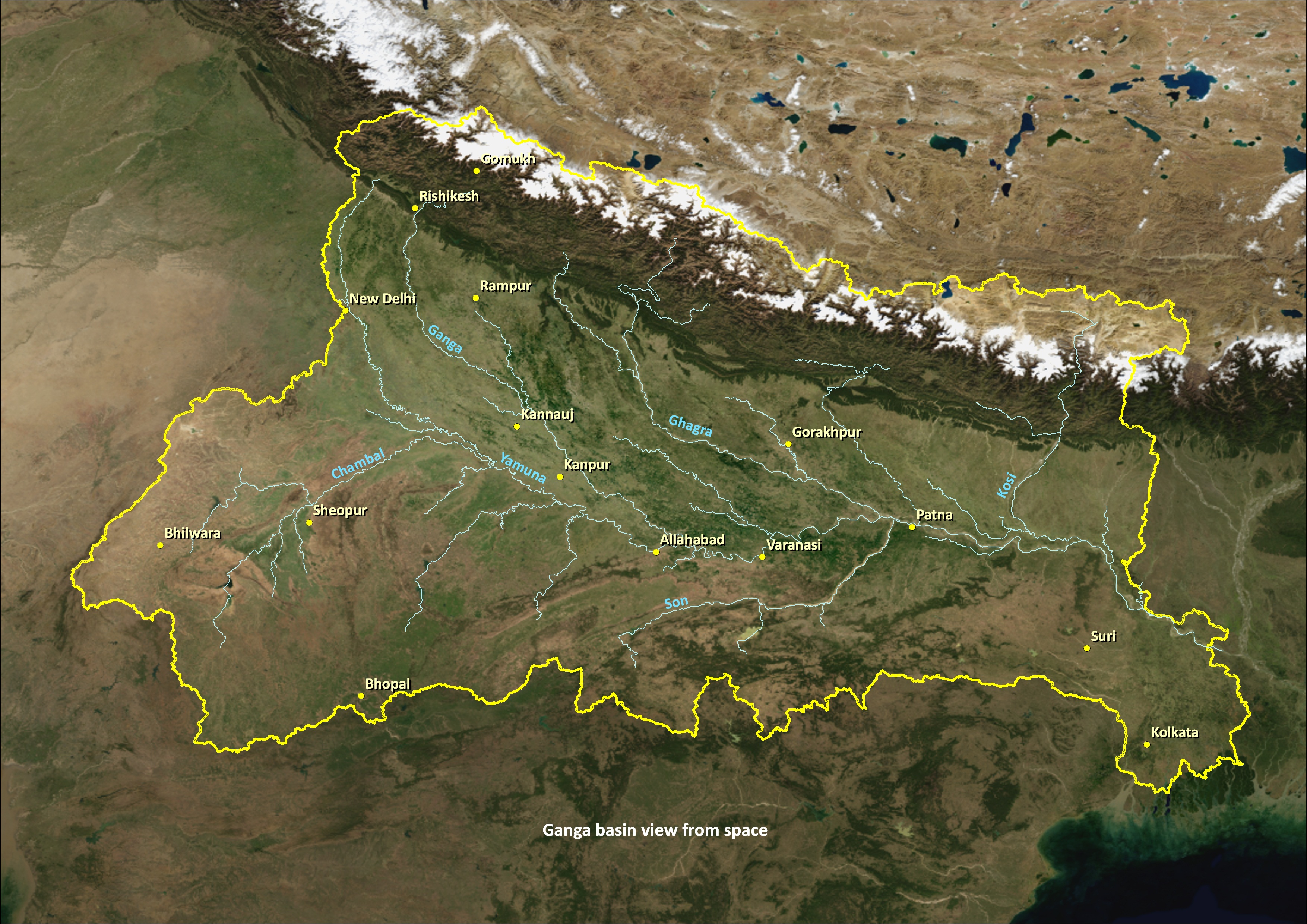 During the discussions held with the officials of India MoWR, as part of the initiatives to effectively use space technology tools, NMCG evinced keen interest to use the space technology for Ganga river restoration efforts. NMCG approached NRSC/ISRO to conceptualize and generate geo-spatial products and web publishing services, which would support NMCG action plans. A MoU was signed between NRSC and NMCG on 23-June-2015 to work together in the areas of applying geospatial technology in the various aspects of Clean Ganga initiative.
Accordingly, an exclusive web portal, Bhuvan Ganga has been developed & deployed in ISRO's Bhuvan geoportal, enriched with all the geospatial layers from Bhuvan as well as India-WRIS, covering the Ganga basin. The following layers are available.
Satellite Image: 2.5 m colour images, 1 m for few cities/towns
Hydrological Layers: Basin Boundary, Sub Basin Boundary, Watershed Boundary, Drainage Network
Ganga Main River Course: Watersheds, Panchayats
Water Quality: Total Suspended Solids Seasonal map of main Ganga river between Kannauj to Varanasi, Allahabad - temporal for last one year; CPCB water quality data visualisation
Major Settlement Locations: Cities/Built-up-Areas
Natural Resource Layers
Land Use Land Cover, Wasteland
Geological Datasets: Geomorphology, Lineament
Soil Datasets: Salt Affected & Water logging, Soil Erosion, Depth, Productivity, Slope, Texture
Land Use Land Cover: SISDP - 57 districts
Urban Land Use: NUIS - 27 cities/towns
Urban Growth: 7 cities
Disaster Specific Datasets: Flood Hazard Zonation - Bihar, Flood Annual Layers
Water Resources Projects: AIBP Command Area, AIBP Canal Network, AIBP Hydraulic Structures, Salt affected Area & Water Logged Area in Major Medium Irrigation Project, Power House
It is planned to continuously update the portal with water quality maps using satellite data, after integrating with the field measured water quality data.
A user-friendly, android mobile application is developed to enable the public to collect and report information on various pollution sources that affect the water quality of the river Ganga. The app has provision to collect information regarding Urban Sewage, Semi-urban/Rural Sewage, Natural Drains/Nallas, Industrial Waste Water, Solid Waste Disposal or any other pollution source.
After choosing the type of pollution source, user can provide more details about the location in the "Attribute" text field. The details may include nearby locality, name of the nalla, name of the industry, etc. When the GPS accuracy is less than 10 m preferably, the user may capture the location coordinate, take photographs of the location from two different views and send the data using internet connectivity. These photographs along with attribute information can be visualized in the Bhuvan Ganga portal. This will enable the concern officials to take further action accordingly.
The first version of the application is made available for download in the Bhuvan Ganga web portal as well as Google Play store.