Idol Immersion Makes Ganga Polluted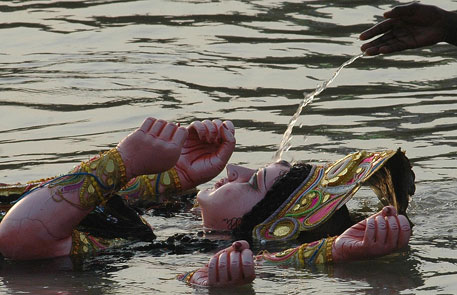 Even as hundreds of idols were immersed in the Ganga in Patna and neighbouring areas, to mark the end of the Durga Puja festival, the district administration did not show any concern for the increasing pollution of the river water.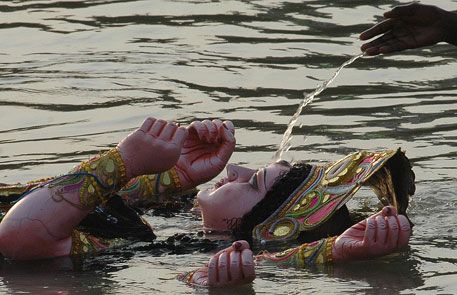 The Ganga is already highly polluted due to the indiscriminate discharge of human and industrial waste into it over the years.
Environmentalists estimate that at least 5,000 litres of paint and hundreds of kilograms of plaster of paris and toxic synthetic materials were immersed in the river along with the idols, causing further damage to its water.
Over 1,500 Durga and other idols weighing about 50,000kg were immersed in the river in and around the city, they say.
"Till a few decades back, idols were made of clay and decorated with vegetable colours and other biodegradable materials.
Now, idols are made of plaster of paris and synthetic colours and are decorated with non-biodegradable materials that are not at all friendly to the river," said environmentalist Mehta Nagendra Singh.
Studies conducted by the Central Pollution Control Board (CPCB) show that idol immersion during festive occasions like Durga Puja is putting "significant stress" (pollution) on the river. Plaster of Paris does not dissolve or disintegrate fast. Moreover, the chemical dyes and colours used in the idols contain poisonous elements.
Particularly, red, blue, orange and green colours contain mercury, zinc oxide, chromium and lead, the potential causes of developing cancer.
A N College chemistry department's former head Dharmbir Prasad pointed out that plaster of paris contains gypsum, sulphur, phosphorus and magnesium. Chemical paints contain mercury, cadmium, lead and carbon. Immersion of these idols poisons the river water by increasing acidity and the content of heavy metals.
"Such pollution damages the ecosystem because it kills fishes, damages plants, blocks the natural flow of the water, causing stagnation. It damages health of human beings also by polluting drinking water sources, causing breathing problems, blood and skin diseases," said Prasad.
Pandit Vishwanath Shukla Chanchal, who has been leading a 'Clean Ganga' campaign for the past several years, blamed the state government for its alleged indifference towards growing pollution of the Ganga. Till date, the government has not initiated any move to ban idol immersion in the river and to encourage people not to use the river for idol immersion.
Idol immersion in the Ganga river would not stop until the government and the civic authorities create alternative facility, like handmade make shift ponds, for the immersion, he said.
Source: Times of India