India Plans to Sell Ganges Water Online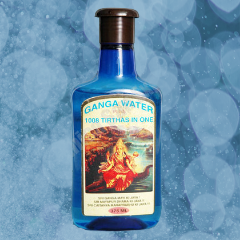 Prime Minister Narendra Modi's administration is considering selling water from the river Ganges, one of the country's holiest and dirtiest rivers, through the internet.
In an unexpected move to boost e-commerce and the struggling state-run India Post, the New Delhi administration is planning to deliver packets of water from river Ganges throughout the country.
According to Indian tradition, the water from the river is considered holy and millions of people regularly take a dip in the river. Those who are unable to visit the river in person for a bath, usually purchase water in small bottles through various means for their holy bath.
India's Communications and Information Technology Minister Ravi Shankar Prasad told reporters: "I have directed my department to provide for a network using the e-commerce platform so that the people of India can get shudh [pure] ganga jal from Haridwar/Rishikesh. We assure you all that we will take proactive steps to address the cultural needs of the people of India."
The river Ganges was one of the centerpieces of Modi's election campaign in 2014. Though the river has been revered by millions of Indians, it has been one of the most polluted rivers in the world.
"There is a huge demand for Ganga jal. "If the mail carriers can deliver mobile phones, sarees, jewelry, clothes then why not water from the Ganges?" Prasad asked.
The minister added that the India Post is to be overhauled in the coming months to improve the service. The perineal river originates from the Himalayan mountain range and runs through major portions of northern India energizing the lives of close to 40% of the Indian population.
Source: Sputnik News