Monitoring of ​Real-time ​Pollution Data ​from Ganga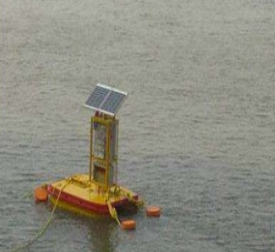 To monitor pollution in the Ganga on a real time basis, the Central government has installed 44 Real-Time Water Quality Monitoring Stations in the river to provide data on pollution in Delhi.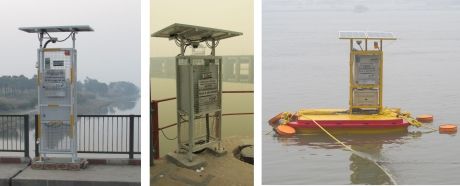 Existing Monitoring stations in Kannauj, Wazirabad and Patna
The pollution data will be displayed on big LED television screens at the headquarters of Namami Gange through online networking and in the offices of Chief Ministers of concerned states. "We have recently completed the infrastructure to receive real-time water pollution data from 44 RTWQMS stations installed in various cities situated on the bank of the river.
These stations have started sending real-time water quality data but they will be calibrated by the scientists of Central Pollution Control Board (CPCB) before being made available in the public domain," said U P Singh, pointing towards a big LED television screen installed in his office on which pollution data of various stations was displayed on rotational basis. Singh is Director General of Namami Gange, the flagship project of Prime Minister Narendra Modi to clean and rejuvenate the holy river.
"The project is unique as for the first time we will get real-time water quality data on 17 parameters," he added. The screen also displays a representative picture of the city along with water quality data in blocks. "As per availability of the infrastructure, we are receiving real-time water pollution data for seven to 17 parameters from various stations.
In the future, water quality data will be received from all the centres for all 17 or more parameters," informed Singh. So far, CPCB used to collect pollution data from various pollution measurement stations manually on monthly basis, which was highly irregular. Another drawback of the manual system was the sample of water collected on a specific day of the month, which was prone to be manipulated as factories release hazardous chemicals after the water samples were picked up.
Furthermore, it took months to reach the data from stations to the headquarters in Delhi. "Now, the real-time pollution data will directly come to my office. In case, there is an unusual increase in pollution in any city, I can directly order the ground staff to take immediate action," informed Singh.
Read more at: Millenium Post