NGT Bans Plastic from Gomukh to Haridwar to Clean Ganga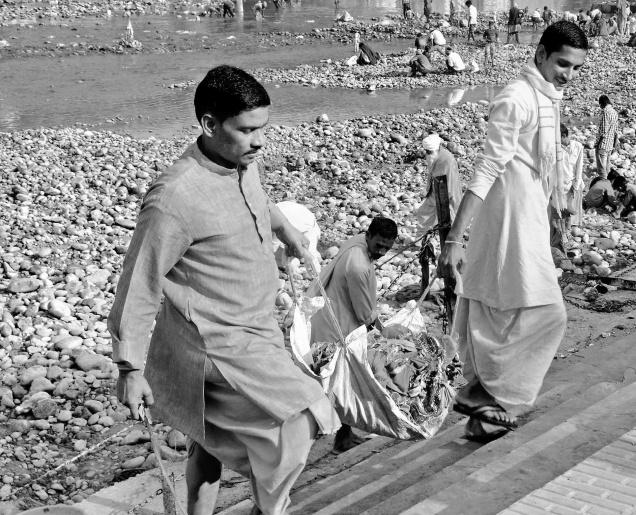 Slaps a penalty of Rs. 5,000 per day on erring hotels, dharamshalas and ashrams spewing waste into the river
There will be a complete ban on use of plastic of any kind from Gomukh to Haridwar along Ganga with effect from February 1, the National Green Tribunal directed on Thursday while slapping a penalty of Rs. 5,000 per day on erring hotels, dharamshalas and ashrams spewing waste into the river.
The Tribunal passed a slew of directions to keep the river pollution free.
It held that if any hotel, dharamshala or ashram releases their domestic waste and sewage into Ganga or its tributaries then "it shall be liable to pay environmental compensation for causing pollution of the river at the rate of Rs. 5,000 per day".
The green panel divided the cleaning work of Ganga into different segments - Gomukh to Haridwar, Haridwar to Kanpur, Kanpur to border of Uttar Pradesh, border of Uttar Pradesh to border of Jharkhand and border of Jharkhand to Bay of Bengal.
Besides the plastic ban, the Tribunal also prohibited throwing of any municipal waste, construction and demolition wastes into Ganga and its tributaries while announcing that violators will have to pay an environmental compensation at the rate of Rs. 5,000 per incident.
"There shall be complete prohibition on use of plastic i.e plastic carry bags/plastic plates, glasses, spoons, packages and allied items in all cities/towns falling on the river Ganga and its tributaries in Segment A Phase -1 (Gomukh to Haridwar).
"Under no circumstances, plastic carry bags of any thickness whatsoever would be permitted. The procurement, storing and sale of such plastic bags, plates, glasses, spoons etc are hereby prohibited, a bench headed by NGT Chairperson Justice Swatanter Kumar said adding," these restrictions would become operative with effect from February 1, 2016."
The Tribunal, which did not pass any order with regard to nine hydro-power projects in Uttarakhand as the matter is pending in the Supreme Court, said that all the projects would build their own sewage treatment plants (STPs) and make them operational within three months.
The green bench further held that all the seriously polluting industries which are operating without consent from Uttarakhand Environment Protection and Pollution Control Board shall be closed with immediate effect.
On the issue of mining on the river bed, the Tribunal said it shall be carried on in a highly regulated manner and under strict supervision.
"No mechanised river bed mining would be permitted. No JCBs (mechanical excavator) would be permitted to operate on the river bed," it said.
The bench, also comprising Judicial member M. S. Nambiar and expert members D. K. Agrawal and B. S. Sajwan, directed the Uttarakhand government (in coordination with Ministry of Textile) to provide bio-degradable materials including jute bags and such other items which can be permitted in the entire segment.
"We direct the State government and public authorities to ensure that public facilities like toilets are provided on the appropriate places in colonies abutting river Ganga all along segment-A of phase 1. Toilets should be connected and linked to bio-digesters or STPs constructed for that purpose alone," it said.
The bench directed the State government to prepare an action plan to provide bio-toilets for pilgrims in Uttarakhand during the festive seasons.
The Tribunal, in its 150-page judgement, also directed that at least 100 meters from middle of the river Ganga would be treated and dealt with as "eco-sensitive and prohibited zone".
"No activity whether permanent or temporary in nature will be permitted to be carried on in this zone including camping. The only exception would be points for picking up and dropping the guests who are doing rafting in river Ganga.
"The area beyond 100 meters and less than 300 meters would be treated as regulatory zone in the hilly terrain. The area up to 200 meters shall be prohibited area in the plain terrain and more than 200 meters and less than 500 meters would be treated as regulatory zone," the bench said.
The green bench also held that there would be no throwing of any medical or bio-medical waste into the river on the river banks.
"If any hospital is found throwing such waste anywhere on land, water bodies or other places, state pollution control board and municipal authorities would recover Rs. 20,000 per violation," it said.
With regard to Rs. 258 crores which was provided for Ganga cleaning project, the green panel noted that Rs. 78 crore has been spent and directed the Uttarakhand government and its various departments to divert remaining Rs. 180 crore for carrying out its directions inluding setting up of STPs.
The Tribunal further held that "no work in relation to sewer line network shall be carried out by Uttarakhand and/or any public authority/body except at Gangotri where the sewer line network has been completed and at Gopeshwar where 96 per cent work has already been completed and both are connected to the STP.
"Wherever there is a town which is closer to the industrial clusters, it will be ensured that that the treated sewage water from the town is recycled for industrial purposes or other permissible purposes. However, on other places it should be used for agriculture and horticulture purposes.
Every effort should be made not to discharge more than 25 per cent of the total release from the STPs into Ganga," the bench said.
It directed Uttarakhand and Uttar Pradesh governments to set up 15 STPs, 24 bio digesters in 6 months to reduce sewage discharge in Ganga.
"There shall be a team constituted of senior officers from Uttarakhand Pey Jal Nigam, State pollution control board and representatives of the government from Department of Urban development. They shall submit quarterly reports to the Tribunal in regard to operation and management of STPs and bio-digestors," it said.
Observing that the Ganga is not only sacred but lifeline of cities, the Tribunal also imposed massive fines ranging from Rs. 10 lakh to Rs 1 crore on industrial units along the river for discharging waste.
With regard to work on stretch from Haridwar to Kanpur, the green panel has convened a meeting of officials including Chief Secretaries of Uttar Pradesh, Uttarakhand, secretary of water resources, MoEF secretary and others on December 22. - PTI
Source: The Hindu