Once a river, Ganga is now a nullah in UP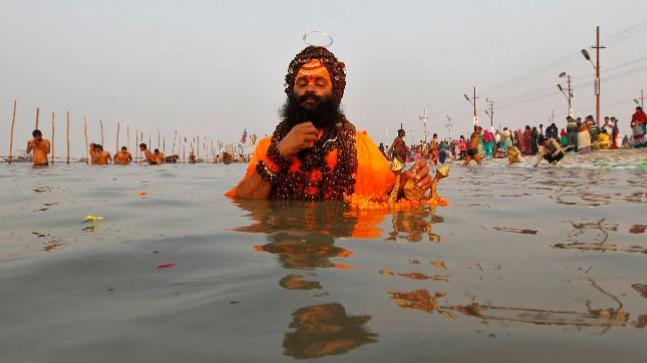 The Ganga water quality report dated June 22 revealed shocking story about the river. SGRL collected water samples from four prominent ghats and the reults were shocking.
According to the report, faecal coliform count (the amount of bacteria present) which should not be more than 500 in 100ml of river water was around 140,000 at the Assi Ghat, 88,000 at the Tulsi Ghat, 40,000 at Dashashwamedh and around 34,000 at Rajghat.
The biochemical oxygen demand ( BOD) which should not be more than 5 mg in a litre of water was 12.8 at Assi, 9.6 at Tulsi, 6.0 at Dashashwamedh and 7 at Rajghat .
VK Mishra who runs the SGRL said: "There is no proper planning done for cleaning the Ganga and its ghats. And the river can never be clean till the drains continue to flow into it."
The main problem in Varanasi are drains flowing into the river and ghats converted into a garbage dump.
KANPUR IS NO DIFFERENT
The city once known as 'Manchester of Asia' is now known for all the wrong reasons. In Kanpur, both the air and water quality have deteriorated in the past many years.
The river pollution in Kanpur has largely been blamed on discharge from the city's tanneries.
In the past few years, authorities have closed a number of unauthorised leather factories at Kanpur's Jajmau area.
Many leather units have also been shifted out, but many others still continue to operate in the city.
Drains still dispense lakhs of litre of waste and garbage from the tanneries into the Ganga. The water remains contaminated and a major portion of the ghat continues to be a safe place for dumping garbage.
According to municipal commissioner Santosh Kumar Sharma, industrial waste from the tanneries as well as domestic garbage are flowing into the river.
"The process of separating both the waste has been started by us so that it can be treated accordingly," Sharma said.
It's quite unfortunate that even after spending hundreds of crores of rupees in Kanpur for cleaning Ganga and its ghats there seems to be no improvement including separate sewage plants for treating industrial and domestic waste.
Like Varanasi, the Ganga water in Kanpur looked pathetic and there was itching in the palm when it was touched.
Full report from India Today on the state of the Ganga River