Phytoremediation Studies for Removal of Copper & Chromium Using Azolla Pinnata and Water Hyacinth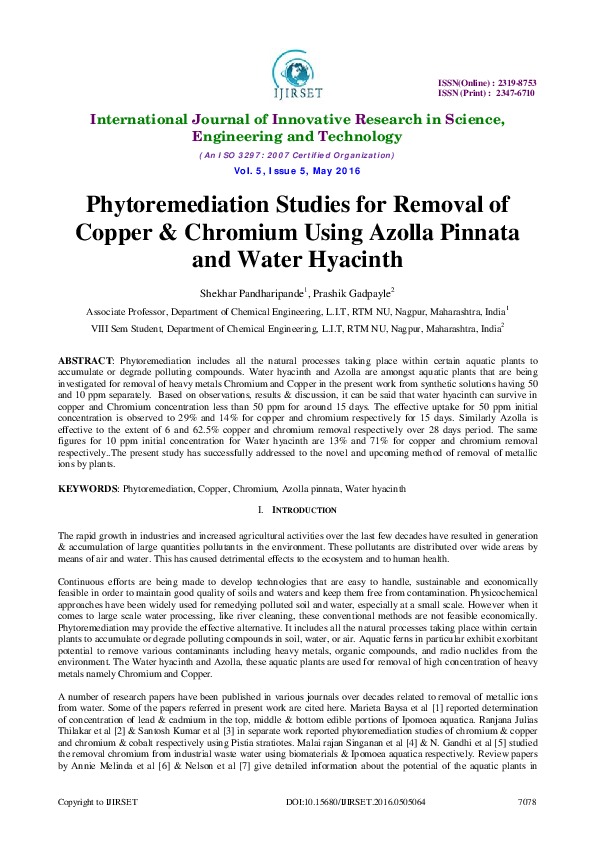 Phytoremediation includes all the natural processes taking place within certain aquatic plants to accumulate or degrade polluting compounds. Water hyacinth and Azolla are amongst aquatic plants that are being investigated for removal of heavy metals Chromium and Copper in the present work from synthetic solutions having 50 and 10 ppm separately.
Based on observations, results & discussion, it can be said that water hyacinth can survive in copper and Chromium concentration less than 50 ppm for around 15 days. The effective uptake for 50 ppm initial concentration is observed to 29% and 14% for copper and chromium respectively for 15 days. Similarly Azolla is effective to the extent of 6 and 62.5% copper and chromium removal respectively over 28 days period.
The same figures for 10 ppm initial concentration for Water hyacinth are 13% and 71% for copper and chromium removal respectively. The present study has successfully addressed to the novel and upcoming method of removal of metallic ions by plants.