River Cleaning Projects Appraised Under Ganga Mission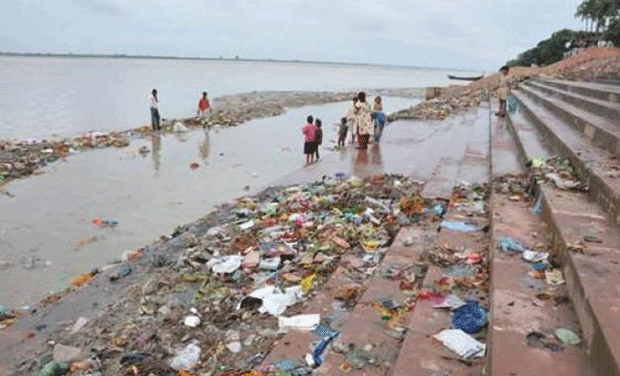 The empowered steering committee (ESC) of National Ganga River Basin Authority (NGRBA) took up for appraisal the first batch of projects to be sanctioned under the centre's ambitious Namami Gange mission, in preparation of the union cabinet's approval
A total of 14 projects - all sewage treatment plants (STP) - were appraised including one based in Prime Minister Narendra Modi's Varanasi constituency, officials from National Mission for Clean Ganga (NMCG) said on the condition of anonymity.
This signals the first movement of projects under the various Ganga cleaning related schemes introduced under National Democratic Alliance. Before this, the NGRBA and its implementing agency NMCG had only cleared projects that were either funded by World Bank and Japan International Cooperation Agency or those that were sanctioned during the previous regime.
The ESC appraised four projects from Uttarakhand, two from Bihar, two from Uttar Pradesh and one from West Bengal of a minor survey of river dolphins. All projects will be carried out as per the Design-Built-Operate-Transfer. "The approval for Namami Gange mission was due in this week's cabinet meeting but now it is likely to be taken up during the upcoming meeting," said the NMCG official. The empowered steering committee, set up in 2009, is headed by the secretary, ministry of water resources and comprises of secretaries of urban development ministry, environment and forest ministry, finance ministry, power ministry, science and technology ministry, Niti Aayog officials and chief secretaries of the five Ganga basin states.
On the directions of PM Modi, the ministry of water resources, river development and Ganga rejuvenation is currently focusing primarily on pollution abatement and has decided to not take up urban sewerage network related works.
"The Prime Minister has given standing instructions that our first goal should be to stop all kinds of pollutants from entering the river, be it industrial effluents, domestic sewage or religious offerings," said a ministry official. The STP project for Varanasi would be based in Ramna near the Benaras Hindu University. The project, when created, will treat 50 million litres per day (MLD) of sewage and will complete the STP requirements of Varanasi city, officials informed.
"Currently, one 100 MLD STP is operational and three will constructed by 2017 in collaboration with JICA. Varanasi's total sewage generation is 400 MLD and the project that ESC appraised will firm up the STP network," the NMCG official added.
According to ministry of water resources, 118 urban local bodies across the five Ganga basin states of Uttarakhand, Uttar Pradesh, Bihar, West Bengal and Jharkhand generated 3,636 million litres of sewage per day while the existing sewage treatment plans have a capacity of only 1,027 million litres per day.
Source: DNA India