Screening of Fresh Water Microalgae from Eastern Region of India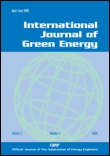 Study of six different freshwater microalgae, collected from Odisha, eastern region of India, has been carried out to find out their potential for biodiesel production. The growth, total lipid, and fatty acid composition of six microalgal strains were determined.
Chlorella sp. IMMTCC-2, which exhibited high lipid content with considerable amount of unsaturated fatty acids, was selected for culture in a self-designed photobioreactor in order to study the scale-up possibilities.
The result shows significant increase in lipid accumulation from logarithmic phase to stationary phase in the photobioreactor, i.e., from 12.4 to 28.3%. Analyses of the present results suggest that Chlorella sp. IMMTCC-2 is appropriate for biodiesel production.