State model for Clean Ganga drive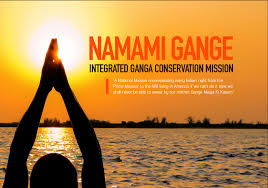 The state model will guide the Ganga cleaning exercise in India, Union minister for Ganga rejuvenation and water resources Uma Bharti said on Tuesday after she formally set the ball rolling for a massive cleaning exercise of the holy river in Jharkhand.

The authorities have decided to begin working soon for the Rs 76 crore sewerage treatment plant in Sahebganj district. "Jharkhand will become a model state in Ganga cleaning exercise. Ganga offers salvation, now it will also offer livelihood to the villagers," Bharti said, adding that the government will also promote organic farming in villages situated on the bank of the holy river.

"A clean Ganga will help in the growth of fisheries and we will also develop cities situated along its course," she said.
The Centre has decided to take on the cleaning and rejuvenation of Ganga from the state because this stretch of the holy river is shorter as compared to Bihar, UP, Uttarakhand and West Bengal. Ganga has an 80-km stretch in the state, running through Sahebganj district on the Jharkhand-West Bengal border.

The plans for rejuvenation are well laid out. Six projects (two each) for solid waste treatment, sewerage treatment and river front development have been sanctioned at a cost of Rs 170 crores. A tender for Sahebganj sewerage treatment plant, worth Rs 76 crores has been already floated while the detailed project reports for five others are being prepared.

Urban development department secretary A K Singh said the minister reviewed the implementation plans of these projects and gave instructions for time-bound completion. Bharti said the government has included suggestions that came after a long deliberation called 'Ganga manthan' involving stake-holders from the concerned states. Chief secretary fromJharkhand, Bihar,West Bengaland the Centre's additional secretary will study the distillation of the river and suggest remedial measures, for which a committee has been formed.

Bharti said the government wants to bring Ganga to Deoghar, thereby enabling devotees to offer the holy water to LordShivaat Baidyanath Dham temple. "Besides offering the holy water to Lord Shiva, the project will improve irrigation," she said.