Study of Ganga ​to Determine ​Population of ​Aquatic ​Life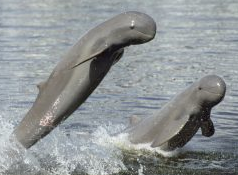 The Government of India has launched a comprehensive and scientific 'across-the-river' survey in the River Ganga to determine the population of aquatic life surviving in the river.
The study will include the endangered Gangetic dolphin.
Basic info
The survey is being conducted by the Dehradun-based Wildlife Institute of India in coordination with the forest departments of Ganga basin states of Uttarakhand, Uttar Pradesh, Bihar, Jharkhand and West Bengal.
Besides, eight NGOs dealing with bio-monitoring activities are also the part of the study.
The National Mission for Clean Ganga (NMCG) said that the survey will act as a baseline scientific data for the government to take necessary measures to improve quality of the river water and .
Key Features of the Survey
The first edition of the survey to determine the aquatic life in river was launched on March 1, 2017 from Narora to Bijnor in Uttar Pradesh, which is spread at a distance of nearly 165 km.
Now the second part will be launched later week of March 2017 from Allahabad to Varanasi stretch accounting to 250 km in length.
The survey is expected to continue until October 2017. The NMCG is also thinking over conducting a study every two years.
The study will help to determine the stretches where Dolphin is habitating, what are the conditions there and the level of threat that the species is facing in a particular belt.
The NMCG reported that the Gangetic dolphins which is one among the four freshwater dolphins in the world is disappearing from the river stretch in Narora to Kanpur due to pollution.
Apart from number of dolphins, number of Ghariyals and Turtles in the river will also be determined in the coming months.
Besides helping to determine the population of the species, the study will also help in knowing the distribution pattern of aquatic life in the river, extent of threat level they are facing and their habitat conditions.
During the survey, wetlands and floodplains would also be covered once the monsoon sets in.
Once the survey in the mainstream is completed, a similar census would be conducted in the Ganga's tributaries also.
A study to find out the out fish species' composition in the 2,525 km river Ganga has also been kick-started from Harshil in Uttarakhand under the Namami Gange programme.
This is for the first time a comprehensive and scientific study is being conducted. Before this all the surveys were carried out in bits and pieces or were for a short period.
The NMCG has chosen this time to conduct the survey as the river water level is relatively low now and so the population of the aquatic animals gets concentrated in some pockets. This avoids possibility of repeat count of animals.
The Union Water Resources Ministry said that the survey was to be undertaken in 2015. However, the work could not take off due to lack of co-ordination among states.
Read more at: Cloud Affairs