Pollution Assessment: River Ganga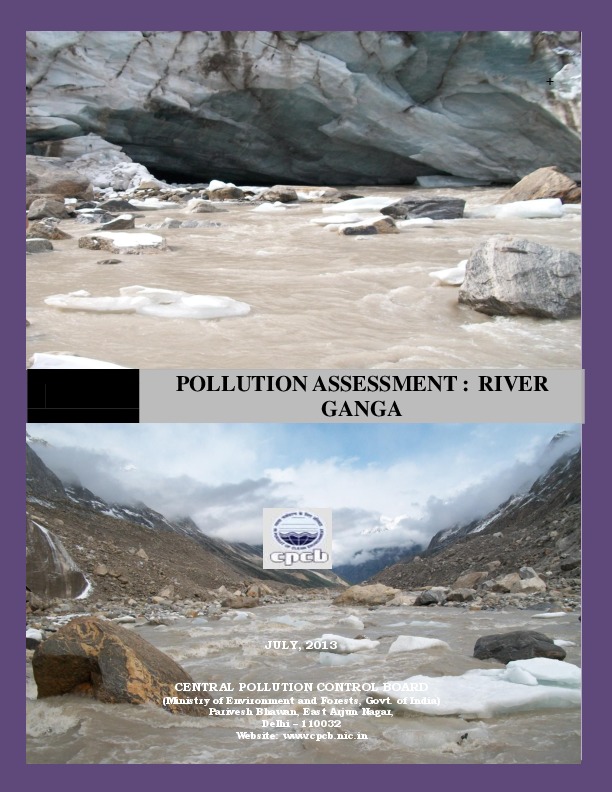 Published by the Central Pollution Control Board
River Bhagirathi and river Alaknanda originate in Garhwal Himalayas and join at Devprayag to form River Ganga. River Ganga traverses through Uttarakhand, Uttar Pradesh, Bihar, Jharkhand and West Bengal and thereafter enters Bangladesh. The important tributaries of Ganga are the Yamuna, the Kali, the Ramganga, the Ghaghra, the Gandak, the Kosi, and the Sone.
Various urban centers viz. Haridwar, Kannauj, Kanpur, Allahabad, Varanasi, Patna and Kolkata which are located on the banks of river Ganga, draw water from the river to meet their requirement and almost the entire wastewater generated by these centers is disposed off into the river. The cluster of polluting industries in Kashipur and Moradabad discharge their effluent in river Ramganga and that of Meerut and Modinagar in river Kali. Both these tributaries contribute pollution in river Ganga in the vicinity of Kannauj. The tannery cluster in Kanpur also discharges substantial amount of industrial effluent in the river. River Ganga is polluted by Faecal Coliforms bacteria in its entire length to variable degree whereas the level of BOD an indicator of organic pollution is largely exceeding the criteria in the stretch that spans from Kannauj to Tarighat.
The diversion of water of River Ganga through Upper and Lower Ganga canals, leaves virtually very little or no flow in the main river. In absence of adequate flow the unabated discharge of treated sewage, even with 100% treatment, and BOD level of 30 mg/l, cannot bring the river water quality to bathing level in lean season flow. To achieve the goal of river water quality minimum flow is required to be maintained throughout the year to support the eco-system in general and all forms of aquatic life in particular and ultimately maintain the wholesomeness of river Ganga.
Central Pollution Control Board, in association with the State Pollution Control Boards of Uttarakhand, Uttar Pradesh, Bihar, and West Bengal, has established a monitoring network to quantify water quality of the Ganga and suggests measures for improving the quality.
The water quality data collected and collated by Central Pollution Control Board under National Water Quality Monitoring Programme and Assessment of sources of Pollution is presented in this treatise. This report also provides insight to the contribution of pollution from River Kali and River Ramganga. The cooperation extended by State Pollution Control Boards of Uttarakhand, Uttar Pradesh, Bihar, Jharkhand and West Bengal in collecting and collating the data is acknowledged.
The data presented in this report has been assessed, processed and compiled by Sh. Vishal Gandhi, Scientist, 'C', Sh. R M Bhardwaj, Scientist 'D', Sh.A.K.Sinha, Scientist 'D' and Ms. Garima Dublish, Research Associate under the supervision of Sh. J S Kamyotra, Member Secretary.
We hope, the information contained in the report would be useful to the concerned authorities, academic institutions, researchers and others stakeholders involved in mission clean Ganga.
-Ajay Tyagi, Chairman
Source: Central Pollution Control Board