Clean Ganga Fund - NAMAMI GANGE: Mission Ganga Rejuvenation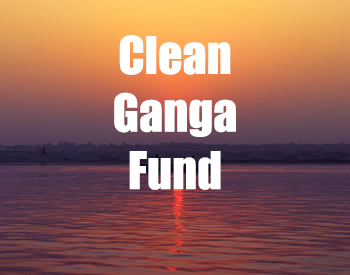 The Holy Ganga
River Ganga has been the source of physical and spiritual sustenance of Indian civilization for millennia. To the Indian mind, River Ganga is living Goddess
पवनः पवतामस्मि रामः शस्त्रभृतामहम्‌ ।
झषाणां मकरश्चास्मि स्रोतसामस्मि जाह्नवी ॥
I am the wind among things of purification, and among worriors I am Rama, the hero supreme. Of the fishes in the sea I am Makara, the wonderful, and among all rivers the holy Ganges.
Bhagavad Gita; Verse 31, Chapter 10
Clean Ganga Fund
"Even while living away from home Come join this people's movement"
FEATURES OF THE FUND
Open to all – domestic as well as international(NRI & PIO)
First time an independent trust with eminent people leading it
Donation would be recognized
More than resource mobilization, this fund will help bring innovation and technological know-how and connect you with this national cause.
INDIVIDUALS, CORPORATES, INSTITUTIONS CAN PARTICIPATE IN THE FOLLOWING:
Adopt Ghats
Pilot New Technologies
Conduct Research
Get involved with creating awareness
Contribute to clean Ganga Fund
DD/Cheque in favor of 'Clean Ganga Fund'
For Electronic Transfer: Account Number: 34213740838
Branch: State Bank of India, New Delhi Main Branch
IFSC Code: SBIN 0000691 Swift Code: SBININBB104.